Our Services & Experience
Our Service
The Company had been involved in a large number of contracts for various private developers and government institutions. These projects implicated site formation, piling and foundations, roads and bridges, concrete structure, construction of new buildings, refurbishment of existing buildings, finishing & fitting out works. Some of the works completed in recent years are of prestigious nature and specified high standard of finishing works.
Besides the solid business foundation in Macau, the Company is also progressive in strategic business developments in Singapore and China.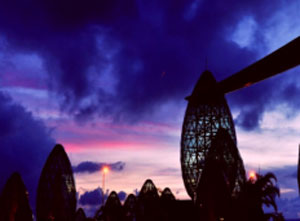 In 2008, Min Da Construction and Engineering Company Limited has established another wholly owned subsidiary, Min Da Construction and Engineering Company Pte Ltd., to explore the market in Singapore. With the same philosophical approach of providing personalized services to our valued clients for their projects, Min Da (Singapore) has also successfully acquired a substantial contract in the country, namely the Marina Bay Sands Integrated Resort. This is proved that Min Da is capable of undertaking jobs of all sizes and complexities.
With our significant experience, Min Da has diversified the company's expertise into a wide range of areas. Our proficiency rages include:
Building Works

• Commercial (Casinos, Congress, Restaurant, etc.)
• Interior Fitting-out
• Renovation & Refurbishment  

Civil Works

• Site formation
• Piling and foundations
• Roads and bridges