Our Services & Experience > Fit-out Works > Marina Bays Sands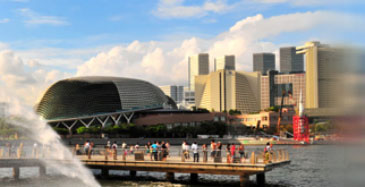 Marina Bay Sands is an integrated resort fronting Marina Bay in Singapore. It is developed by Las Vegas Sands, and is billed as the world's most expensive standalone casino property at S$8 billion, including cost of the prime land.
With the casino complete, the resort features a 2,561 room hotel, a 1,300,000 square foot (120,000m2) convention exhibition centre, the 800,000 square foot (74,000m2). The Shoppes at Marina Bay Sands mall, an iconic Art Science museum, two large theatres, seven "celebrity chef" restaurants, two floating Crystal Pavilions, an ice skating rink, and the world's largest atrium casino with 500 tables and 1,600 slot machines. The complex is topped by a 340m long SkyPark with a capacity of 3,900 people and a 150m infinity swimming pool, set on top of the world's largest public cantilevered platform, which overhangs the north tower by 67m.
Employer: Marina Bay Sands Pte Ltd, Singapore
Project Name: Marina Bay Sands Integrated Resort Development Package 5219 – Construction Contract for Casino Level 1 Ceilings
Project Date: Package 5219 : April 2009 – March 2010
Employer: Marina Bay Sands Pte Ltd, Singapore
Project Name: Marina Bay Sands Integrated Resort Development Package 5206 – Pre-function Fit-out
Project Date: December 2009 – June 2010